"As doctors we play a major role in not only the physical but emotional health and wellbeing of our patients. Appearances and self-confidence are interrelated. I love the opportunity to help my amazing patients look and feel their very best."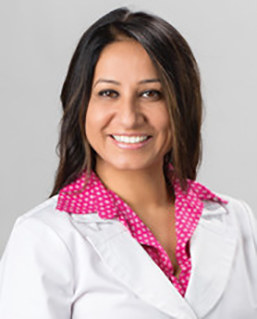 Dr. Ruby Arora completed her medical training at Western Pennsylvania Hospital in Pittsburgh, PA and is a member of American College of Physicians. She is Board Certified in Internal Medicine and is trained in aesthetics and Medical Weight Loss.
She has a keen interest in the field of aesthetic medicine and specializes in face and hand rejuvenation, hair removal treatments, skin resurfacing, photo facials, PRP, micro needling, and chemical peels. She has received advanced training in injectables including Botox and Dermal Fillers. Dr. Arora has a natural approach to facial rejuvenation and wants to help every person accentuate their best features.
Dr. Arora launched a medical weight loss program when she first started her aesthetics practice in 2011. She has struggled herself with weight issues for a long time and with diet and exercise, she was able to lose extra pounds. Dr. Arora is very passionate about her program and works with her patients to help them achieve their weight loss goals. She enjoys an active lifestyle and lives with her husband and two kids in Pittsburgh, PA.
Certifications and Affiliations
Board Certified in Internal Medicine
Fellow American College of Physicians
Member International Association of Physicians of Aesthetic Medicine
Member American Academy of Aesthetic Medicine
Member International Master Course on Ageing Science